Is the content on your iPhone only taking up half of the screen?
This can be alarming when it happens because it's easy to think that there is something really wrong.
Fortunately, however, this is occurring because of a feature that is meant to make the device easier to use.
Our tutorial below will explain more about why your iPhone 13 screen lowered, plus show you where to find the setting that allows it to happen.
How to Bring the iPhone 13 Screen Down
Tap Settings.
Choose Accessibility.
Select Touch.
Turn on Reachability.
Our guide continues below with more information about using the reachability option on your iPhone or disabling it, as well as images for these steps.
When you have an iPhone you probably want a screen that is big enough for you to see everything, but you would still like to be able to hold it in one hand and use it effectively.
Since you can't make your hand bigger, you might be interested in a feature that Apple has included on the device that's called Reachability.
You can turn on the Reachability option for your iPhone 13 by going to Settings > Accessibility > Touch and enabling the Reachability setting.
After you have activated this setting on your device you can return to the Home screen or an app, then swipe down on the bottom edge of the phone screen to bring the top towards the center of the screen.
With the bigger screens that are included on many of the newer iPhone models, it is much more convenient to watch videos, play games, and even read books than it was with the earlier, smaller models.
While you may have been hesitant to get a larger iPhone model if you were upgrading from a smaller device, the clarity and utility of the larger phone screen are really useful benefits.
If you have a smaller or even an average size hand, however, then you might discover that it's kind of tough to reach things at the top of the iPhone screen if you are trying to use it one-handed.
Fortunately, your iPhone has a "Reachability" setting that seeks to solve this problem by allowing you to make a quick swiping motion on the bottom of the screen to "pull" the top of the screen towards the center so that you can reach it with a typical one-handed hold.
Our guide below discusses more about the iPhone 13's Reachability feature, including how you can toggle it on or off, so that you can see if it's something that will benefit your iPhone usage experience.
How to Turn On Reachability in iOS 15 (Guide with Pictures)
These steps were performed on an iPhone 13 in the iOS 15.6.1 operating system.
However, most other iPhone models have this same feature in the same location if you are using a device with iOS 15 and would like to try out Reachability.
Step 1: Select the gray Settings gear icon on your Home screen.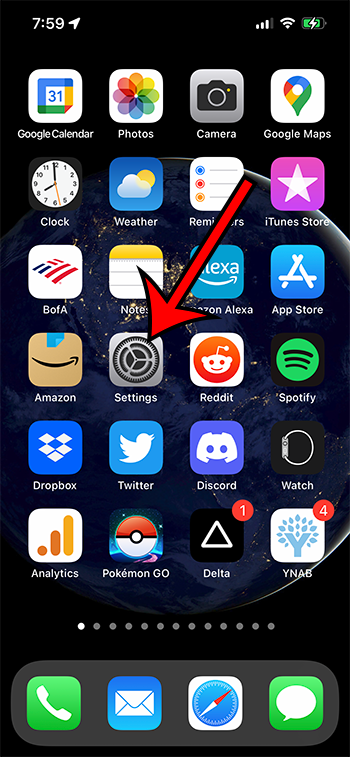 Step 2: Choose the Accessibility option from this menu.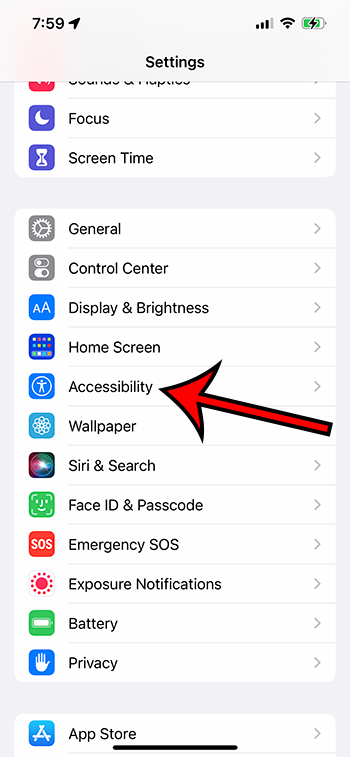 Step 3: Tap the Touch button in the Physical and Motor section of the menu.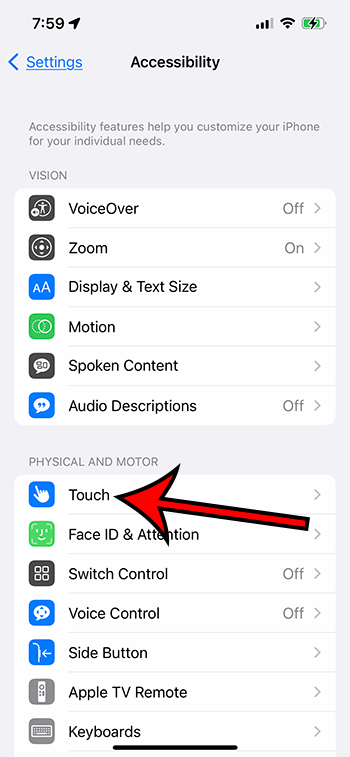 Step 4: Touch the button to the right of Reachability to turn it on.
You will know that you have enabled Reachability on your iPhone where there is green shading around the button. I have it turned on in the screenshot above.
Now that you know how ot enable or disable reachability on your iPhone you will be able to toggle this setting on or off as needed.
This guide continues with more discussion about this setting.
What is Reachability on iPhone?
Since a portion of the population wants bigger phones, there needs to be a way to offer those bigger screens while still being able to use them with one hand.
A lot of people will use their phone with just one hand, but it's almost impossible to perform actions that require you to touch the top of the screen when you hold it like that.
Reachability on the iPhone is a compromise between having that larger screen and still allowing the user to perform tasks on the phone while they hold it with one hand.
When Reachability is active, the top of the screen will be close to the middle of the screen, making the content that was previously out of reach more accessible.
More Information on iPhone Reachability
On the newer iPhone models that don't have a Home button, you are able to swipe down on the bottom edge of the iPhone screen to activate Reachability. This brings the top of the screen closer to the middle of the screen so that it's reachable with one hand.
On the older iPhone models that have a Home button, you would enable Reachability by double-tapping the Home button instead.
The top of the page will remain in the middle of the screen so that you can use the device in this mode for as long as you would like. Once you're done, just swipe down on the bottom edge of the screen again to return to the default view mode.
It's pretty typical to wonder "why is my iPhone screen lower" if you have reachability turned on and weren't actively trying to use it. The nature of the way that the Reachability mode is enabled means that it can happen by mistake.
But once you know what's going on it's pretty easy to fix. Or you can just go back to the Touch menu and turn off Reachability on your iPhone if you find that you aren't really using it.
Matthew Rice has been working in the IT Field for almost two decades. He has been assisting coworkers and friends with their phones, computers, and other electronic devices. In addition to his IT roles, Matthew also enjoys freelancing and writing about tech topics, specifically tech tutorials about iPhones and Microsoft Office.